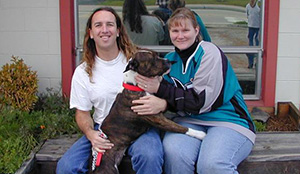 Hello, and welcome to our home of animal care since 2005! We've got a lot of experience caring for a wide variety of animals and their unique needs and would love to assist you with your animal care needs. We can provide care and boarding for your bunnies and smaller critters in our home.
It's hard when you can't take your animal family with you—we know this firsthand. We can offer you a measure of experience and level-headedness, and we love to put your mind at ease in this situation. Heather and Paul have decades of experience caring for and sharing our home with some amazing animal friends—dogs, cats, bunnies, birds, rats, fish, horses, goats, sheep, and a fabulous little tortoise. We've volunteered for animal shelters and rescue groups for many years, fostering needy and ill animals and providing onsite care.
Our current animal family consists of: Roxy the small, smart cattledog mix, a cat princess named Merida, a small French tortoise named Rene, and four amazingly opinionated rabbits: Doris, who gives us bunny kisses, Meeko, the chocolate Lab of rabbits, and sisters Olive and Daisy who could rule the world if they only had thumbs.
Charities we donated to over the years:
Beagle Freedom Project
The Rabbit Haven
House Rabbit Society
Bad Rap
Santa Cruz County Animal Shelter
CAPE
Furry Friends Pet-Assist Therapy
We are insured and bonded.
Contact us!
Our email:
bunandbreakfast at gmail.com
Or call us at 831-902-9986!